Do you want a separate, reliable server for your websites? Managed VPS server enables you to host an unlimited number of websites.
VPS servers are Virtual Private Servers. The physical server is separated into a number of software units. Each VPS server has its own operating system and can operate independently from others. MyCity Hosting offers you the possibility to own your very own virtual server.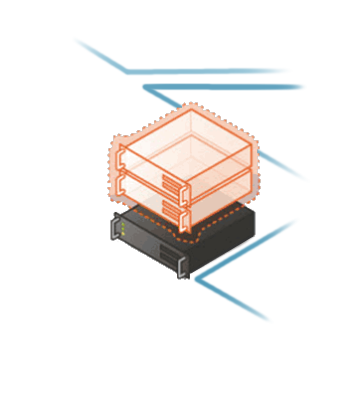 The advantages of a managed VPS server
You can host an unlimited number of websites on your virtual server, or use it for audio and video streaming. You can have your own hosting clients, or host all of your websites on one place, whereby all the hardware resources are at your disposal.
Our virtual servers possess individual IP addresses containing only your websites, internet connection of 1 Gbit/s, as well as 8 TB of monthly bandwidth, with a remark that exceeding the bandwidth will not be charged.
Our virtual servers offer safe and reliable hosting which supports up to 15.000 visits per day!
VSP can serve a large number of visits if you use WordPress in combination with a W3 Total Cache plug-in and Memcached optimization.
In theory, it can support a lot more visits, but, having you in mind, we made an estimate using careful calculations, because what matters to us is standing behind our words.
Our team takes care about your virtual server being optimized and functioning incessantly.
All e-mail traffic is secured through SSL encryption, and your inbox is protected from spam and viruses.
This is especially useful for companies that rely on extensive e-mail communication.
Data backup from all servers is done every night. Data is stored on two different geolocations – thanks to that, we guarantee you the safety of your data.
You can access your VPS via SSH protocols and hosting panels.
Also, free SSL certificates for your websites are available.
Data on the server is secured with RAID1 mirroring – two hard-disks store your data at the same time, making it more than secure.
You can create an unlimited number of e-mail accounts.
We guarantee maximum possible website loading times, and monthly server uptime of at least 99%.
The servers are located in a datacenter in USA and Germany and are given constant attention in air-conditioned rooms, with constant power supply. Network is secured with advanced DDoS protection and reduntant backbone connections.
It is ensured that the VPS is almost never offline, we overlook all the services 24/7 and we react within 10 minutes if we notice any stoppages.
You don't have to worry about the server itself, because our team takes care of setting up, regular updating and optimizing the server.
Our team recommends VestaCP hosting panel, whose development is aided by our team of programmers.
Server specifications
Managed VPS (our team takes care of maintenance and monitoring)
Two virtual processor cores
4 GB RAM
100 GB SSD (Germany datacenter) or 40 GB SSD (USA datacenter)
Guaranteed 1 Gbit/s connection speed and 8 TB bandwidth on a monthly basis
Advanced DDoS protection
Debian, Ubuntu or CentOS, VestaCP hosting panel, whose development is aided by our team of programmers (or any other desired hosting panel)
VPS can handle up to 15.000 daily visits without significant load
Unlimited number of websites and email accounts.
Free daily and monthly backup
Available in 24 hours from the moment of purchase
Price
$90 per month
Software setup included
The presented server configuration is an optimal configuration. It can be adjusted or tailored to your needs. You can add more RAM, more CPU power and other adjustable components.